I've seen these wire line frames all over and loved the idea, but I'm just now gettin' to it. I've shopped around for a frame for my daughter's room, but the size I wanted was still more than I wanted to pay. I came across this beauty at Goodwill earlier this week for a whopping $3. Now that's my price!
It was stinky and nasty, but perfect for my plan.
First I scrubbed it with Murphy's Oil Soap-Citrus and pulled the nails out of the back. That was a big difference by itself!
Then I brush painted it with eggshell white. I was out of white spray paint, and had a perfectly good can of paint on hand. I gave it 2 coats.
Getting better, no? And it didn't stink anymore, which is always a bonus.
I used craft wire I had on hand for the 'lines', but it was brass-colored. Yuck. I wasn't going to spend $5 on a new spool of craft wire, so I rummaged through my spray paint and found some odd gray-ish, tan-ish, platinum-ish from I-don't-know-where. (Sound like a paint expert, don't I?) I don't have a pic, but I cut my wire to the correct length, taped them to a step stool top, and sprayed that ugly brass off with my gray-ish,tan-ish,platinum-ish. Perfect.
I stapled the wires to the back side and voila....
I added the rolled felt flowers after I saw this tute over at
My Heart is Yours
. Super, super easy. I could make those all day! Using scraps of course....
I hot glued those on, and added these little clothespins from Michael's $1 Spot that I picked up a few months ago (anticipating this 'someday' project).
They're super cute and match my kiddos room.
So now we have to hang it, but we are always needing a spot in her room for a current picture, card, or whatever else she deems "special". I'm not too hot on tacks in a child's room (even if she IS 7), so this works wonderfully and is super-cute to boot.
I spent $3 all together, which you just can't beat either.
Thanks for stopping by!
Linking up at these parties:
Tatertots & Jello Weekend Wrap Up Party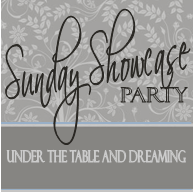 Sundae Scoop