Hello everyone! I'm joining a fun and different link party for the first time today, and I'm excited to "meet"
new-to-me blogs in the process. Come and join in over at
Night Owl Crafting
!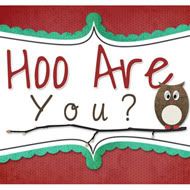 The idea is to answer a few questions about yourself, then share your blog in a linky party.
Here goes, and please come join in!
#1 Have you ever had a professional massage before?
Yep! Several! They are wonderful no matter who gives them, because I think I've had a massage from beginners to the experienced. However, I do have to say that it's nice to have the same, experienced masseuse that you go to regularly. Once I moved I really missed the comfort level I had with my long-time gal.
#2 When drinking bottled water, do you have a preference on which brand you drink?
Not at all!! :)
#3 What is your favorite kind of soup?
That's easy and it makes my mouth water just thinking about it...Loaded Potato from O'Charley's!!!! YUM!!!!!!! I would lick the bowl if it was socially acceptable!
#4 Do you have a preference on which Kleenex brand you use?
Just nothing generic...I do generic on lots of things, but not Kleenex.
#5 What is your favorite breakfast food?
Pancakes, sausage, and OJ from Denney's...I haven't had that in a long time!!
And since you should always have a picture in a post, I will leave you with this mouth-watering pic of some O'Charley's loaded potato soup. Delish!!
Now I'm off to try to work on my looooong to-do list. Join in the fun following the link above and have a great day!
EDITED: The link was closed once I got over there to post, so you actually won't find my post there, LOL! But go check it out, and join in next week. :)